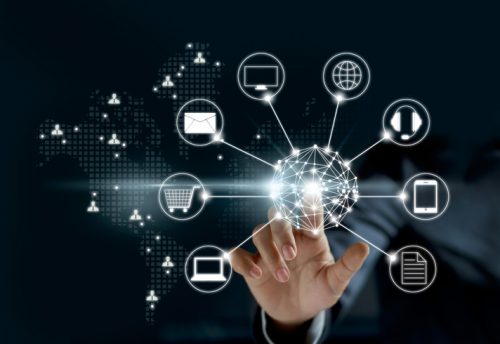 Technologies That Will Disrupt Business in 2018
"In 2018, disruptive technologies like AI, natural language processing, and computer vision are maturing, going from game-changing ideas to foundational tools for business. This year, we'll see these, and other technologies drive how business gets done and what new products will launch in the near future."
There are multiple technologies that experts say are most likely to affect a wide variety of organizations as they undergo "digital transformations". What is digital transformation? As most terms in this industry, you will likely get different answers from everyone you ask. Many CIO's struggle to define digital transformation but most people "know it when they see it". To us, digital transformation is the change associated with the application of digital technology in all aspects of human society. The transformation stage means that digital usages inherently enable new types of innovation and creativity in a domain, rather than simply enhance and support traditional methods.
Smart Health Tech
The focus on using technology to offer employees and families "simplified, high-quality and transparent healthcare at a responsible cost" is at the top of the list for the new join venture Amazon, Berkshire Hathaway and JPMorgan Chase. Other tech research forecasts that business will widely adopt remote patient monitoring, with millions of wearable devices incorporated in corporate wellness program.
Question: does your company have a wellness program? Do you get rewards for being healthy?
IOT
IoT devices are helping to reduce costs and improve efficiency. "From gathering new data to automation of infrastructure, companies are finding many benefits from adding connectivity and intelligence to physical infrastructure." A disadvantage to IoT adoption is security threats and someone to identify these risks and provide protection from them.
Voice Control & Virtual Assistants
It's being said, that 2018 is the year where natural language processing improves substantially and takes hold in the enterprise. Chief Product Officer of S/4 HANA Cloud at SAP, Christian Pedersen says "Voice-activated assistants have already begun permeating the business setting, but it's still early in terms of tapping into and unlocking the power of what this technology can fully do." Some examples of demand and need for these technologies are being seen, Alex for Business being an example.
Containers & Microservices
These are attracting interest from organizations that need to quickly develop apps, especially ones that employ IoT and/or the cloud.
What are containers and why do you need them? Containers are a solution to the problem of how to get software to run reliably when moved from one computing environment to another. This could be from a developer's laptop to a test environment, from a staging environment into production and perhaps from a physical machine in a data center to a virtual machine in a private or public cloud.
Microservices have been making waves among forward-thinking application development organizations. A variant of service-oriented architecture (SOA), microservices is an architectural style in which applications are decomposed into loosely coupled services. This is making applications easier to develop, test, and deploy. As organizations become more comfortable with managing these container-based microservices architectures, its said that we will see continued growth.
Blockchain
This is a big buzzword these days. We are starting to see blockchain outside of the finance industry, and this is most likely going to help improve the supply chain and address some security issues. Blockchain has become the disruptive standard in modern commerce. Vincent Manier, CFO at Engie Insight, say's we'll see major disruption to companies' finance departments that expand beyond accounting.
Everything from reconciliation and cash application to PO and invoice matching could soon be taken over by a disrupted ledger technology.
Digital Ethics
As companies undergo their digital transformation, a major concern is how to address an overwhelming amount of data and glean insight. These same issues will also affect human resources, where new streams of data offer opportunities and challenges in maintaining companies' focus on ethics, corporate culture and compliance.
Takeaways come down to one main sentience. "In 2018, we'll see continued focus on the importance of culture, reputation and socially responsible technology engagement."
Source: https://www.cio.com/article/3254744/emerging-technology/technologies-that-will-disrupt-business.html
Filed under: Blog, Candidates, Clients, GSquared. .